It is try that the name brand shoe companies out their have some amazing products and we all no where to go. You have the likes of Office, Dune, Topshop, Kurt Geiger just to name a few. They have amazeballs shoes, but sometimes at an amazeballs price. But let me show you these pair of yummy delights….. 🙂 my friend wore them to work today. ALL DAY!
These are a gorgeous SCULPTED WEDGE SHOES aka HEEL-LESS Shoes. A soft black suede like front, a grey patent double strap, zip back fastening and to top it off a small metallic silver 'breakpad' triangle at the back for a little bit of support.
These were a bargain, £30.00. Where? on a high street near you! These were bought in Edmonton, London. You know, one of those quirky pop up shoe shops. No name, no memory, just a bargain shop offering wonderful delights for your feet. I think you would agree these are gorgeous?
These are surprisingly really easy to walk in, it matches the arch of your foot feeling as though you are walking in wedges. They live your posture, making you have a flattering silhouette and are an absolute eye catcher!
If you would love to try and walk in these amazing heel -less shoes then here are some available now –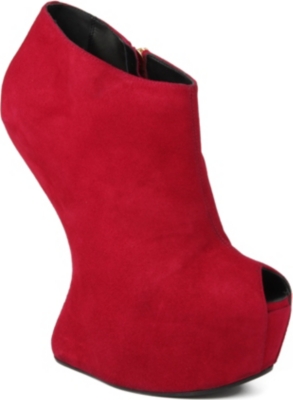 Giuseppe Zanotti @ Selfridges £655 
Odeon @ Barratts £40.00
Steve Madden @ New Look £45.00
Bargain @ Ebay £9.99
So there we go… some great 'heel less' shoes for a range of pockets. I have to stress that Ebay have loads at an amazing price so grab a bargain. I love the Andre Nicole ones. So I don't have the legs of Nicole Scherzinger but with these shoes I can definitely still strut my stuff.
What do you think?